19th International Congress on Public and Non-Profit Marketing
Online/Virtual Presentation, 2-4 July 2020
SUSTAINABILITY: NEW CHALLENGES FOR MARKETING AND SOCIOECONOMIC DEVELOPMENT
On behalf of the International Association on Public and Nonprofit Marketing (IAPNM), we are pleased to announce that the University of León and UNED will be hosting the 19th IAPNM Congress in July 2020.
This is usually an annual in-person event organised by major universities aiming a friendly atmosphere and working environment for the presentation and discussion of the latest scientific and practical advances in the fields of public and nonprofit marketing, as well as more general issues as CSR, sustainability or responsible socioeconomic development (contributions not only from marketing and management, but also from other related disciplines in these knowledge fields are welcome). It also provides a chance for productive meeting, encouragement of collaborative projects and nurturing of international cooperation networking.
However, as the exceptional circumstances of the coronavirus outbreak prevents from all in-person relation, the 2020 edition of the congress has turned online/virtual. Participants will have the option of online live presentation (streaming) via the UNED platform and, this way, possibilities for interaction will remain. In case travelling would be possible at the expected date, in-person activities and an optional social programme in León-Ponferrada (Spain) will be added to the agenda.
Topics to be discussed during the event include, but are not restricted to:
• Sustainability and responsibility issues in public, nonprofit and social marketing
• Responsible consumption and production
• Marketing and the UN Sustainable Development Goals
• Issues dealing with and potential contributions/solutions from public, nonprofit and social areas to health and socioeconomic Covid-19 crisis
• Green marketing
• Cause-Related Marketing (CRM)
• Marketing in transformative services (health, education, public transport…)
• Sustainable tourism approaches to destination and city marketing
• Digital tools in public, nonprofit and social marketing
• Branding in public, nonprofit and social organizations
• Corporate Social Responsibility (CSR)
• Sustainable socioeconomic development
• Value co-creation in public, nonprofit and social fields
• Public and private collaborations, Fourth Sector approaches
• Donation behaviour and management
• Volunteer recruitment and management
• Innovation and teaching experiences in the above fields
• Other related issues
Bo Edvardsson (Karlstad Business School , Karlstad University, Sweden)
Emeritus Professor, Bo Edvardsson has an extensive experience teaching marketing at the undergraduate and graduate levels at Karlstad University and different courses in marketing, quality and service management at many universities including Magna Græcia University of Catanzaro and National University of Singapore. He has been Vice Rector at Karlstad University and Visiting Professor at several European and American universities. He has been board member of the Marie Curie EU-project Service Design for Innovation Network (2011-2018) and responsible for the KK-profile The DNA of Service Innovation (2009-2011). Bo has 6 years of experience form being the Editor for Journal of Service Management and is author of several research articles on service innovation, quality and management.
Irene Garnelo ( University of Reading ,UK)
Lecturer in Reputation and Sustainability and member of the John Madejski Centre for Reputation at Henley Business School, University of Reading (UK). Irene delivers modules in the areas of sustainability and responsibility at undergraduate and MBA levels, and has developed a module in social marketing available to postgraduate students. She is also involved in several research projects, mostly related to pro-social and pro-sustainable behaviours.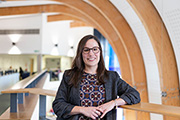 Elżbieta Goryńska-Goldmann ( Poznan University of Life Sciences, Poland)tice .
Lecturer and researcher focused on the analysis of food consumer behaviour and the reactions of companies to changes in food consumption, deals with practical implementation of the concept of sustainable development and desired direction of changes in consumption. Member of the Industrial Marketing and Purchasing Group (IMP-Group), Polish Economic Society, Polish Association of Agricultural and Agribusiness Economists, Polish Society of Nutritional Sciences, Polish Scientific Society of Marketing. Involved in national and international research projects, related to participants of the agri-food sector. Co-founder of the «Food Markets» platform for the exchange of opinions between representatives of science and practice .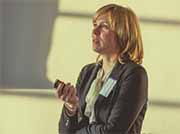 Michał Gazdecki ( Poznan University of Life Sciences, Poland)
Economist and market researcher, his main field of research covers distribution systems in the food and agricultural markets, application of network and relational approach to the food sector. He is the leader of the «Food Markets» project, which was established in 2012 and is focused on the organization of scientific conferences on important issues for broadly understood food markets. Member of IMP-Group, Polish Association of Agricultural and Agribusiness Economists, Polish Scientific Society of Marketing, Polish Association of Market and Opinion Researchers.
Entities that organize this event
Some information of interest to participate in the event.
Important Dates:
Submission of abstracts (title, author/s and up to 200 words) until April 30, 2020 by sending an email message to aimpn.iapnm@gmail.com
Deadline for submitting full papers: June 1, 2020.
Notification of acceptance/rejection by: June 14, 2020.
Registration period: June 15 –June 30, 2020 (60 EUR).
Registration and Congress fee:
Open from June 15 until June 30, 2020.
ALL (CO)AUTHORS are required to fill in the Registration Form in English or Spanish and send it by e-mail to aimpn.iapnm@gmail.com, together with the bank receipt of the payment of the registration fee.
The Congress fee is 60€ for all authors and includes one year of membership to the International Association on Public and Nonprofit Marketing (IAPNM).
Payment must be made by bank transfer. When making the payment of congress fee, we kindly ask you to make sure that all potential bank transaction costs are covered.
Recipient: International Association on Public and Nonprofit Marketing
Bank: Banco Santander
Address: Ordoño II, 15, 24001-León (Spain)
IBAN: ES68 0049 5000 1626 1640 1843
BIC/SWIFT (Banco Santander): BSCHESMMXXX
Fee: 60€
Concept: IAPNM2020 Name and Surname
Working languages:
English is the main official language for the congress and most publishing opportunities in leading journals would be offered in this language.
There will be also special sessions for Spanish/Portuguese written papers, and publishing opportunities will be offered accordingly. A book of proceedings will be also published.
INSTRUCTIONS FOR AUTHORS AND SUBMISSION
The 19th International Congress on Public and Nonprofit Marketing will receive full scientific articles, but also work-in-progress papers. Papers will be evaluated by members of the event scientific committee. Articles must be unpublished and should be submitted in English, Spanish, or Portuguese. Each paper can have up to five (5) authors, and authors are allowed up to three (3) submissions of papers by a same author (regardless of whether sole or co-authored).
Accepted full scientific articles and work-in-progress papers will be presented online by streaming, via the UNED platform. All papers and presentations will be published in a Congress Book of Proceedings with ISSN, presented in an innovative epub format aimed to facilitate the dissemination of research results in various fields. A selection of best papers will be considered from publishing in international and domestic journals. The paper presentation in the congress and its inclusion in the book of proceedings is subject to registration by all the authors. Information about sessions and time of presentation will be available in due time.
Papers must be submitted by email to aimpn.iapnm@gmail.com until 1 June, 2020. In order to optimize the appearance and functionality of the Congress Book of Proceedings in epub format, a template for authors is provided in English, Spanish and Portuguese. Authors are encouraged to follow scrupulously the style rules of the Congress and replace the text of the template with that of their work, without introducing format modifications. Final papers must be sent in Word format.
Authors are encouraged to pay special attention to the style rules for section and subsection titles and for figures, tables, equations, etc., which must be entered as images. Optionally, a brief description can be included in the alternative text menu to promote accessibility to information for people with visual disabilities. You can find more specific information on how to add alternative text and apply styles in the following links:
ACCESS AND NORMS FOR SESSIONS
ACCESS TO THE CONGRESS SESSIONS
Participation in the Congress will take place through Lifesize App. A brief user guide with some specific instructions can be consulted here.
To participate in the Congress participants must have confirmed the recording authorization sent by INTECCA-UNED (please, check your Spam folder if necessary). For further technical assistance, please, send an e-mail to tutoriaintercampus@intecca.uned.es
Access to the different sessions of the Congress programme is available through the following links. Please, notice that there are different links to access sessions depending on participants' role:
Key speakers, parallel session moderators and presenting authors have assigned a direct participation with audio and video during the session. Only authors designed to present papers are required to assume this role.
Session attendees and non-presenting authors must not participate with audio and video during the session, although they can participate in the time for questions and discussion through the session chat.
Please, notice that the Congress Programme has been scheduled according to Madrid Time Zone (for more information, click here).
NORMS FOR PRESENTATIONS IN PARALLEL SESSIONS
Presentations should last for a maximun of 15 minutes and are required to comply with the PPT template provided. After interventions, there will be time for questions and discussion. Session attendees and non-presenting authors are invited to participate through the session chat.
Presenting authors are required to provide a PDF file with the presentation used during the session by e-mail to aimpn.iapnm@gmail.com . The papers accepted for presentation at the Congress will be published in repository format with ISBN, together with the presentation file and the recording of the session.
The certificates of participation in the Congress will be sent directly to authors as soon as possible after the end of the Congress.